I got to finally visit the beautiful city of Athens and as soon as I got back, I couldn't wait to put together a guide for you all! Athens has definitely become one of my favourite cities to visit - Oli & I can't wait to go back! We decided not to use any maps but instead just wondered around and explore the city. I quickly made sense of where we were and we stumbled across some amazing restaurants and shops! Athens definitely live up to my expectations but surprised me at how 'young' the vibe of the city really is! There were so many young people around and so much nightlife to satisfy your needs! With having spent only 3 days there - I've put together the main hotspots we went to/did!
How to get there
I suggest looking on Aegean Airline's website to search for flights. We traveled with them and was surprised at how roomy the seats were and that we were served a meal! (It was only a 4 hour flight!) The site is really straight forward and you can see which month you can grab a bargain flight. October - November is the perfect time to visit as the weather is a tad cooler (still hot for us brits) and the city is in off peak season which is great for grabbing some awesome hotel & flight deals! They also fly directly to Athens from London 3 times a day! You can search for flights here.
Where to stay
For the first 2 days of the trip we stayed at the newly opened Electra Metropolis Athens. This hotel is in such a perfect location - being a street down from Ermou street (famous for its shopping) and about a 15 minute walk up to Acropolis. It's also surrounded by great restaurants and cafes but also serves great room service too! Oh, we can't forget the view! We ended up staying in the Acropolis Suite & it really was one of the best views I could possible asked for. There was enough space in the room and a large marble bathroom which was a dream! You can see it in my vlog here.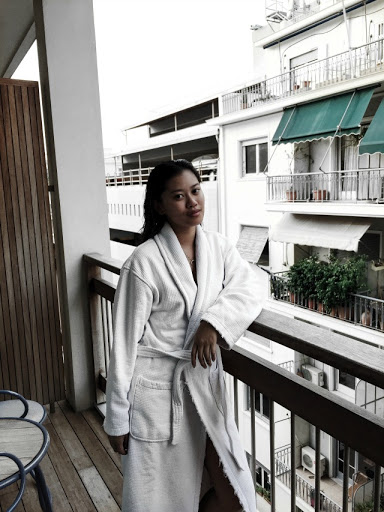 For the last 2 nights, we stayed at the NEW HOTEL. It's part of the DESIGN HOTEL group (they create beautiful architecture around the world!) so you know you're in for a treat! We stayed in the standard room which had plenty of space & a private balcony. The bed was super comfy and not bad for location too! It's about 5 minute walk from Electra Metropolis Athens & is about a 5 minute walk into Plaka. My favourite part of town! Full of souvenir shops, cafes, art stores and restaurants!
Image courtesy of Yes Hotels
What to do
I suggest you leave your map at the room & explore the city only on foot! It's the best way to meet the locals, get to know the city and get lost in it's beautiful culture. Head into Plaka, this is my favourite part of town! It literally makes you feel like you're walking around a greek island! Some restaurants are hidden but those are the best ones. You can find some amazing vintage bargains too along with your classic souvenir pieces. My favourite is that you have so many little stores selling olive oil, greek honey, olives and of course baklavas to take home! Every corner is such a photo perfect moment so don't forget to charge your camera and snap away!
Hike up to Acropolis
We thought it would be a trek but it only took us 15 minutes to hike up there. Along the way were small souvenir shops which we stopped and wondered around. We also grabbed some ice cream as a little treat to ourselves & it was the freshest ice cream I've ever eaten. Be sure to grab the pistachio or coconut one! Once at Acropolis, grab your ticket and head up. The best time to visit is either early morning or after lunch time! We unfortunately went around 10.30am and had to que about 30 minutes to get tickets. You can either opt for the €20 ticket which just lets you into Acropolis and the theatre or the €30 ticket which lets you into all the monuments. Take in the view every step of the way and admire the ruins!
GO SHOPPING
You can pretty much spend hours on Ermou street looking through the shops, grabbing a coffee at a cafe and even a huge pretzel! They have such a great selection of stores and it really is one of the best places to shop! I picked up some bits from H&M (they had such great stock of everything) and Bershka but there are also Pull & Bear, Zara & H&M and Sephora too!
Take the Bohemian tales of the city tour with Urban Adventures
Far from the usual boring historical tours - Urban Adventures focuses on the modern twists the city has to offer. This tour was more focused on street art which was so interesting & you get to walk around and know the city. Highly recommend you do this on the 1st evening if you have time. Especially if you have never been to Athens before. We were taken to all the art hotspots and bars only known to locals. Definitely make sure your camera is all charged up for all the photo ops too!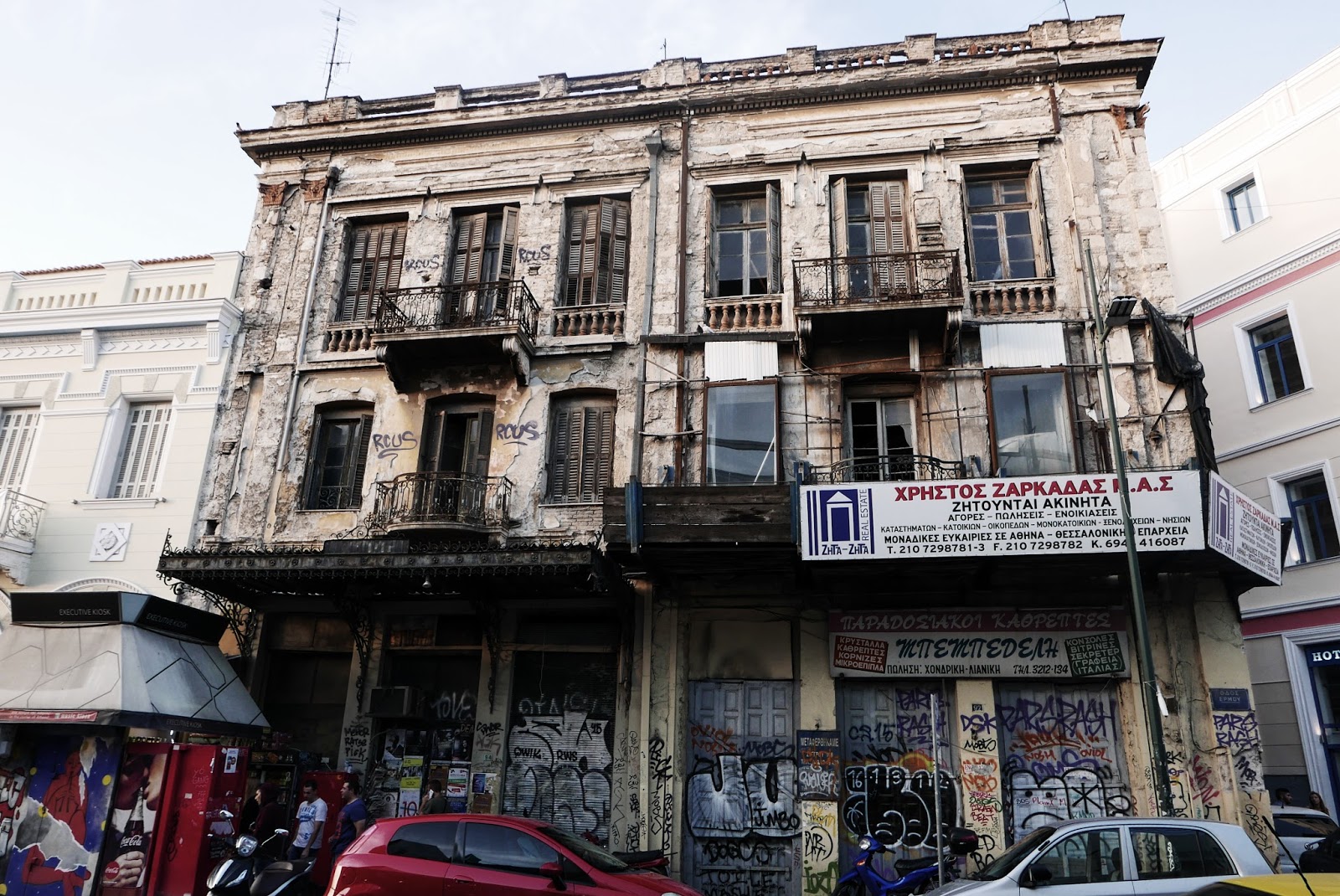 Where to eat
MOMA CAFE, Monastiraki - Be sure to try out their pizzas! We went for the Greek pizza and Moma pizza. It was really filling and all ingredients were really fresh. We chowed down with some homemade lemonade as well! Their desserts sounded good too but we were stuffed so didn't get a chance to try any.
New Art lounge, New hotel
We went for dinner on our first night there. Such a beautiful space on the roof top with great views of Athens. You can even see Acropolis as well. The food was delicious and quality was superb. I went for the seafood linguini and Oli went for the steak. Also try out their signature cocktails over looking the breath taking view!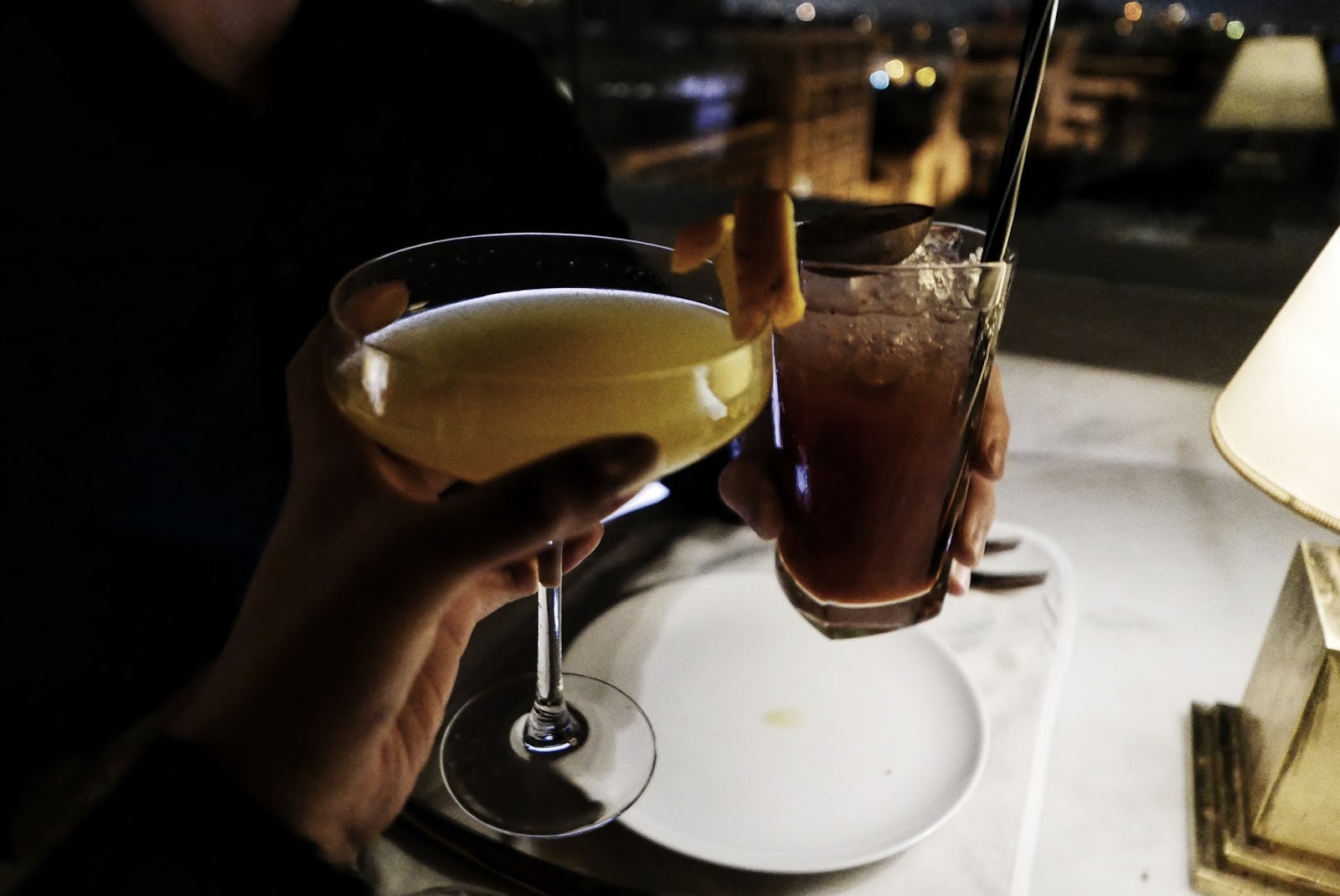 OTTO Restaurant
This was our favourite restaurant we went to. Everything from the decor to service and food was incredible. The menu was really fun and interesting, combining a lot of ingredients that sounds like they wouldn't go together to the presentation. We had a great tasting menu with a few cocktails and it was genuinely the best way to end the trip. I'm hoping we get to go back and we are planning on bringing a load of friends too! I recommend the casserole and the beef marinated in coffee! But anything on the menu is to die for!
Diogenes, Plaka
We stumbled upon this place on our first night of walking around Plaka. The atmosphere was super chilled but lively. With the place being such a big restaurant it filled up pretty quick with lots of couples, families and friends. The menu was easy to read and I went for the shrimp linguini (love a good pasta dish!). I think this was the best linguini I've had on the trip. The size of the shrimps on my plate were huge and there was a big enough portion to make me not want dessert!
Six Dogs
A go to place for the locals. This quirky little hidden gem is picture perfect and different from any other bars I've been to in Athens. Having the setting out doors and through an underground entrance is pretty interesting! You have the try the frozen cappuccino! They also serve food as well! Definitely a must stop whenever you are in Athens!
So I hope you guys enjoyed my guide to Athens! I can't wait to go back & hopefully be able to visit the islands too! Any more questions just leave them below! Thank you to Discover Greece for making this trip possible!