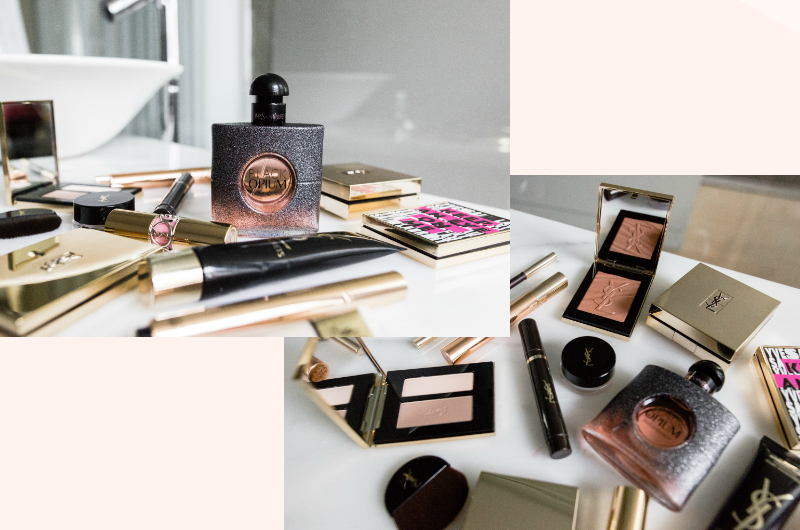 SUMMER IN THE CITY WITH BLACK OPIUM
IMAGES BY MICHAELA TORNARITIS
My scent of the summer is none other than one of my favourites, Black Opium. Even better, YSL has the perfect day and night combination from Black Opium Floral Shock and Black Opium EDP. Click read more to see how I spent my day in London alongside the Black Opium duo!
With my day starting off with a quick breakfast meeting, I got ready with my favourite YSL beauty products and created a soft and glowy look perfect for the summer. I added a sun-kissed finish with the YSL Sahariennes bronzing stone to my cheek bones and used it to slightly contour the face. I popped on my minimal jumpsuit which is perfect when I'm in a rush as it's super chic and classic. Paired with a leather jacket and white trainers and I'm out the door!
After my meeting finished I decided to head to my usual coffee place 'Kaffeine' to grab a bite to eat and a soy iced latte. I had the rest of the day free so decided to explore Soho a bit more on foot and did a little bit of vintage shopping.
I took my Black Opium Floral Shock in my bag to top up during the day too. I love how light but fresh it is with notes of pear, citrus and freesia. I didn't have to keep topping up during the day as it clings onto the skin for hours. If you don't really love typical girly floral scents for summer, this is a great alternative if you're looking for something a bit cooler and interesting. I had to headed back to my hotel after a few hours exploring as I had to get ready for a friends gig in the evening. To transform my look from day to night I used the products below to create a light smokey eye finishing it off with a dark lip (Rouge Fur Couture in shade 14) and a classic cat eye flick. I normally create a darker more exotic look when I go out in the evening which really complimented the darker sexy scent ofBlack Opium EDP.
Before heading out I had to stopped by the Long Bar at Sanderson for a cocktail with a few friends before we headed off to Shoreditch for a night of music and food! It ended up being such a great night catching up with friends and I even got asked a few times what scent I was wearing! You can get your Black Opium Floral shock here and Black Opium EDP here!
This post was in collaboration with YSL beauty. All thoughts are my own.
All images taken by Michaela Tornaritis