I popped into Kinsley James for my dress appointment.
I ended up at kinsley james in west hollywood for my one of my last visits to a bridal showroom in la and my visit did not disappoint. I started off with showing my stylist with a few screen shots of dresses that i loved from their site like i did at en blanc. its such a helpful tool for when you first meet your stylist so they know what kind of dress you have in mind and can also pull out other pieces they think you might like. in this case i had about 4-5 dresses i screen shot and we picked out about 10-12. we ended up not trying them all on during the fitting as when i tried on the other dresses i got a quick sense of what i wanted. here are some of the dresses i tried on from kinsley james, i unfortunately didn't take note of each designer i tried on but you should be able to find them on their website or dm them on instagram!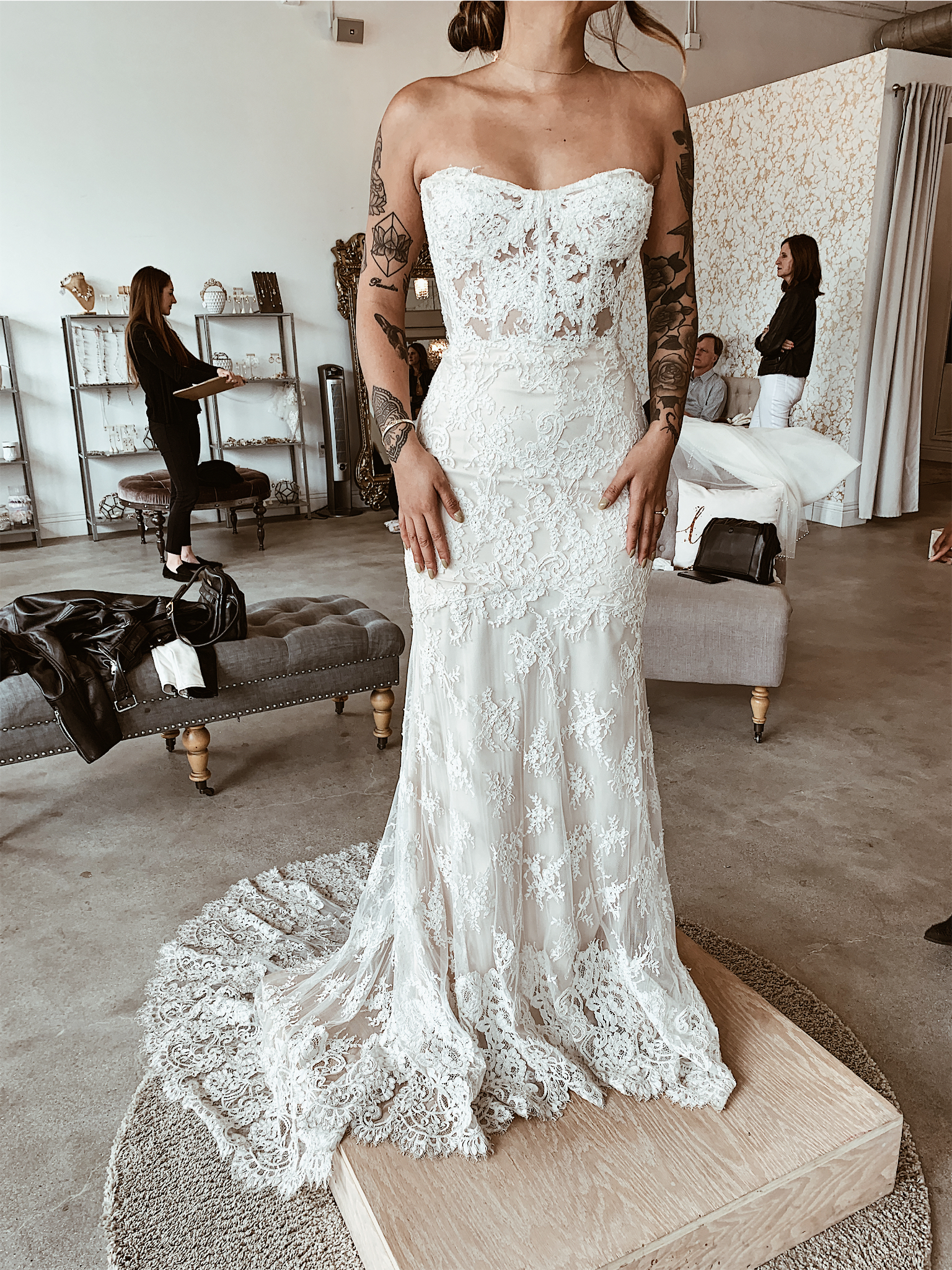 This was such a beautiful dress. Simple, classic, chic and comfortable. I wasn't a huge fan of strapless as I felt like my small chest wouldn't look right but this fitted so well and complimented my frame. I love the see through corset detail and the beautiful lace train on this one!
I felt like this beautiful dress is perfect for the classic laid back style of a boho girl. Of course it would be a lot more fitted but the front has a relax fit and it would be beautiful with some dainty jewellery. i love the high slit on the side and this lace was incredible. The material wasn't as comfortable as I thought but it was still stunning.
This dress off the rack was insane. I thought it was all 1 piece but it turned out to be 2! The beautiful fitted floral lace gown is underneath then you add on the dotted netting and tie the waist with a silk string. It was so unique and I've never seen anything like this before! I loved pairing my necklace to drape around the back instead of the front too making it a bit more playful. There was also some see through mess for the the chest area which makes it so much more comfortable.
This dress was definitely too girly for me but I couldn't not try it on. I think this was the first one I tried on and I felt so feminine in it. I loved the deep v neck and the ruffled skirt. I didn't think I would suit anything like this but it definitely surprised me.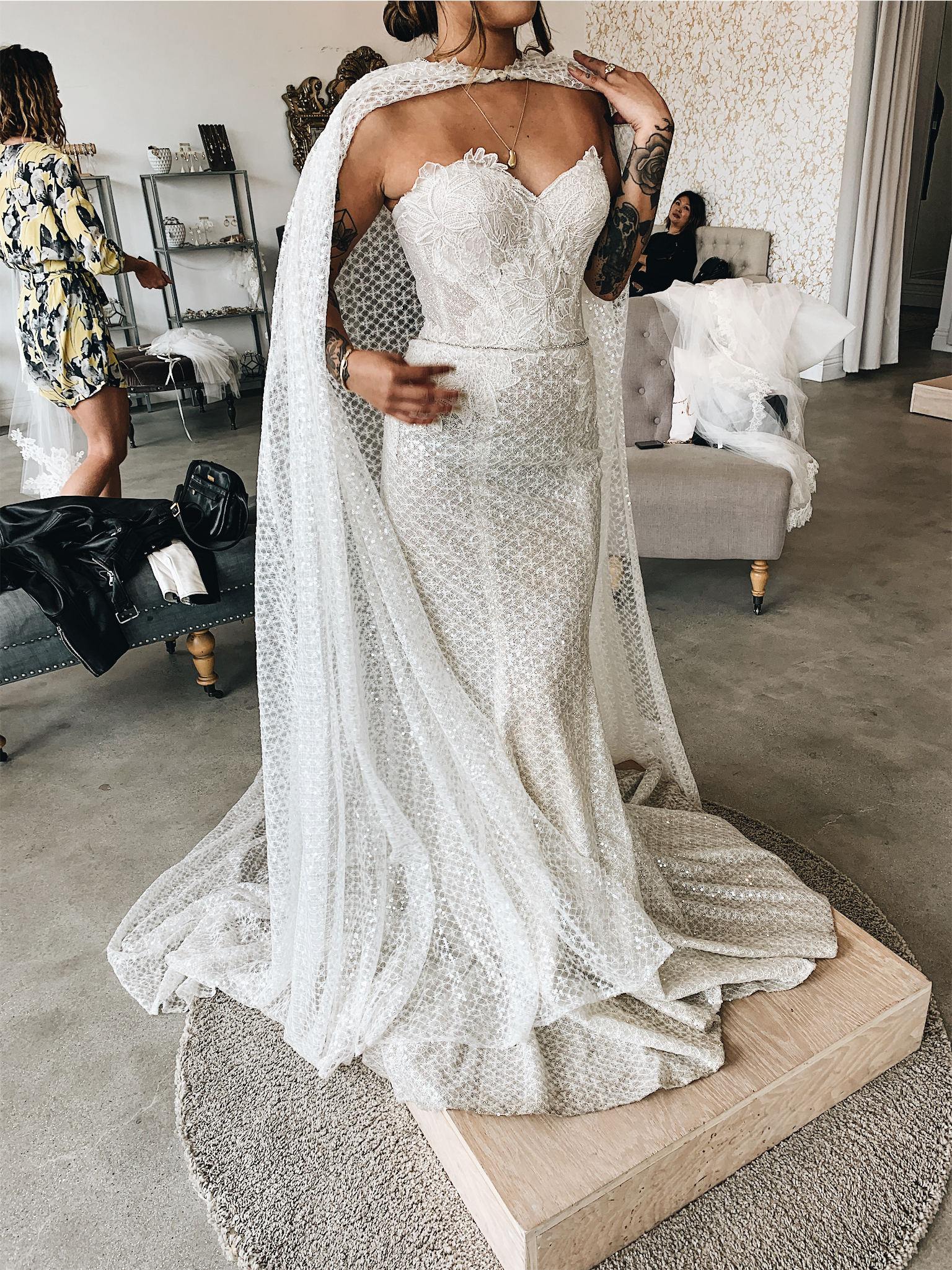 Now, this one is perfect if you love Game of Thrones. I felt so dramatic and powerful in this one. The cape, the sequins, the drama! The material was a bit scratchy though and felt like this fitted more with a winter wedding or something dramatic like a castle.
This beautiful gown was very vintage inspired with the lace. I love that it was minimal but not too plain. We then also added with floral lace jacket over the top and it transformed everything. I was really set on this dress for a long time because of the jacket!
The big news!
i ended up finding my dress here! I'm super excited to show you guys. i won't be posting about it on socials untill the wedding as i don't want oli to see but i'm just super excited and over the over moon to find 'the one'. i've never seen anything like it before and i just had a wow moment when i tried it on. i'm officially a kinsley james bride! thank you so much for the kinsley team for making my visit so easy and fun. i can't recommend them enough.
Store: WEST HOLLYWOOD, 8231 W 3rd St, Los Angeles, CA 90048, United States
Disclaimer: this post was not sponsored. all thoughts and views are my own.